Pictures from Scotland
Go to Finland: the Lake | Go to Finland: Oulanka | Go to Finland: Turku
---
I started my day in the Borders by climbing two of the three Eildon Hills. The Eildon Hills are extinct volcanoes--you can see the shape of the volcanic cone in this picture of Mid Eildon (plus a bit of the landscape to the north). I took this picture from the summit of North Eildon, then descended between the hills and climbed Mid Eildon.
---
Before I left the summit of North Eildon, I heard a loud "Baaa!" behind me and turned around to meet this trio. In the background on the left you can see an old Roman aquaduct over the River Tweed. The Romans had a fort, Trimontium, at the base of the Eildons. Remains of the Roman settlement and of Iron Age dwellings on the top of North Eildon have been identified by archaeologists, although there is not much readily visible to the casual observer.
---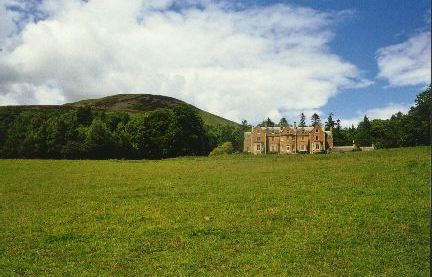 A view of Eildon Hall, with North Eildon in the background. From this angle, North Eildon does not look so impressive, but it is almost as high as Mid Eildon.
---
A view of the River Tweed, looking upstream from a pedestrian footbridge on my way over to Dryburgh.
---
On the other end of the footbridge, I found this structure perched on top of a hillock. On the O/S map it was simply labeled "Temple." It turned out, to my surprise, to be a memorial to the 18th century Scottish poet James Thomson. This was just one of the literary landmarks that I came across on my walk. I also found myself making unplanned visits to Sir Walter Scott's grave and to the Eildontree Stone or Rhymer's Stone, where Thomas the Rhymer was supposedly visited by the queen of the fairies.
---
Go to Finland: the Lake | Go to Finland: Oulanka | Go to Finland: Turku