Pictures from Rovaniemi and Turku
Turku is the city where Eppu is living and attending graduate school.

Go to the Lake | Go to Oulanka || Go to Scotland
---
A hilltop in Rovaniemi, a town where we stopped on the way back to Oulu from Oulanka. (Rovaniemi is almost right on the Arctic Circle.)
---
The intersection of Erik Street and Kristin Street, in Turku. (Signage gives the Finnish name on the first line and the Swedish name on the second line.)
---
Mom explores the gardens around Turku Castle. The harbor is in the background--you can see the side of a ship.
---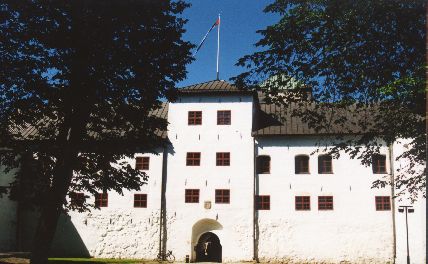 Turku Castle. What you see here is one of the more recent additions. The castle is quite large; standing in the courtyard, we could see many historical layers of building, additions, and modifications from different centuries.
---
Moomintroll! One of many Moomin sightings in Turku. I think this Moomin is advertising a family restaurant.
---
The river that runs through Turku. (I've forgotten its name.) We (Jensens and Eppu) ate lunch on a bench in the shade on the right. (Sorry about the extreme sun/shadow contrast in this picture.)
---
Go to the Lake | Go to Oulanka || Go to Scotland