I recently (3/21/09) went for a horseback trail ride with the Outdoor Adventure Social Club and North Mountain Outfitter -- my second trail ride at North Mountain. This time it was a half day ride, with a stop for a snack. Here are some pictures.
Starting Out
Horses waiting for us in the corral. Since I had some time with my hands free, waiting while the horses were being saddled up, I took a lot of pictures of horses hanging out in the corral. I've put most of those pictures on a separate page in order to spare the boredom for those of you not enthralled by plain old horse pix. I've tried to choose the pictures for this page to show specific aspects of the setting and the trail ride experience.
---
The family that runs North Mountain Outfitter also grazes cattle on fields too extensive and rolling for me to capture in one photo. Here's their pond and just a little piece of the cow pasture. On the way to North Mountain, driving through the Shenandoah Valley, we drove past other cattle farms too.
---
The other members of my OASC group (there were seven of us total) stand and wait by the corral. Horse barn in the background. It was supposed to get up to 55 degrees F in Charlottesville in the afternoon, but it was cooler in the morning and in the mountains. It was probably not much warmer than 40 F, and maybe less than that, when this photo was taken. We were all bundled up in warm layers. I wore two fleece jackets layered over each other, and I was very glad to have silk and wool long underwear under my jeans! It turns out that keeping your loose-fitting jeans around after losing a few pounds can be useful.
---
The bunkhouse, where I ate a delicious dinner and stayed overnight on my previous visit to North Mountain. Notice the hot tub outside, on the left. I highly recommend a North Mountain Outfitter trail ride, cowboy dinner, and overnight stay at the bunkhouse for anyone looking for a fun, interesting, and outdoorsy-with-creature-comforts weekend getaway in Virginia!
---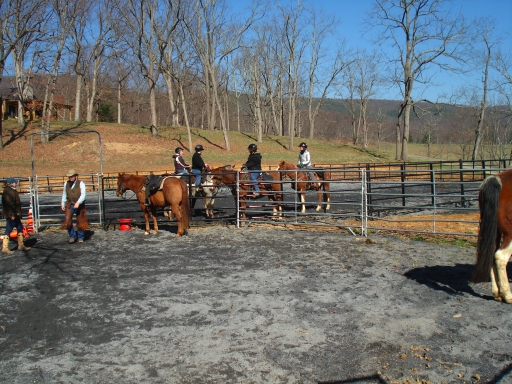 Riders were matched up with horses roughly in order from least experienced to most experienced. This time around, nobody in our group was riding for the first time. I think the least experienced person had done a few trail rides before. On the left, on foot, you can see trail boss Dwight (in vest and chaps) and his daughter Jennifer (in pale-colored boots). I can't praise them enough for the way they run North Mountain Outfitter. They take excellent care of the horses and of the people on the trail rides. They are good hosts, teachers, and leaders.
---
I was not the most experienced rider in our group, but somehow I ended up being last to get on a horse, so I had plenty of time to take pictures of the other riders getting acquainted with their mounts.
---
On the Trail
I was matched with a horse named John Boy. I got along with him pretty well. Here we are pausing for a rest in a clearing on the trail (really kind of a parking lot on a fire road). John Boy is taller than he looks in this picture--the perspective is funny.
---
Here are more pictures of John Boy.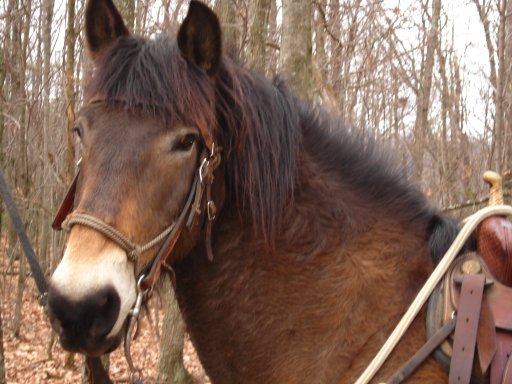 John Boy is part percheron, a breed of draft horse, and is both taller and stockier than most of the other horses at North Mountain (I gather they are mostly quarter horses).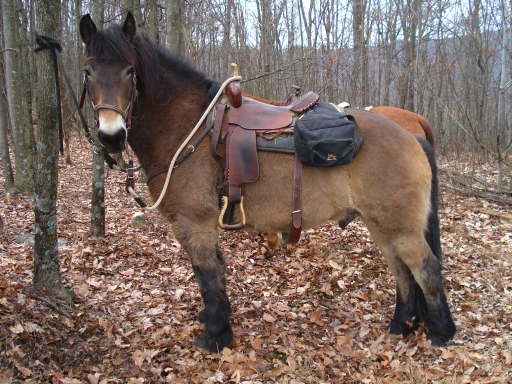 Like all the horses at North Mountain, John Boy is a very good horse. The horses there are well-trained but still lively.
By way of contrast, I went on a trail ride last fall at a different operation, where the horses were taken out on one-hour rides on the same route hour after hour, day after day. The horses at that other place were understandably tired and sluggish, and they moved along the trail as if they were part of a slow-moving amusement park ride, running along a fixed track. Their predictability made them suitable for the kind of operation it was; inexperienced riders, including children, could just hop on and sit on the horse and "experience" a trail ride. I like North Mountain Outfitter much better--with a little bit of individual attention, they can take even inexperienced riders on a longer and much more interesting trail ride, over more varied terrain, that doesn't have that fixed-track quality to it. The North Mountain horses have spirit and unique personalities combined with enough equanimity to make them suitable for non-expert riders.
I was really well impressed by the horse that I rode last time I came to North Mountain, Apache, even though we had our differences (he insisted on going down a narrow trail sideways at the end of a full-day ride). As noted in my previous report, Apache stepped in a hole and stumbled soon after I got on him, but he remained calm. I think that experience gave me an implicit trust in the North Mountain horses.
I had a similar incident with John Boy. At one point out on the trail, his front half suddenly went down and I felt myself pitched forward. I don't know exactly what happened, because I couldn't see from on top of him what was going on with his legs; the rider behind me said he slipped in a muddy patch, but Dwight didn't think that was the case. He may have just stumbled somehow. At any rate, I was surprised, but it didn't even occur to me to be frightened. I just thought, "stay on the horse, keep ahold of the reins. Stay on the horse, keep ahold of the reins." And I did. I kept my seat and John Boy got back up on all four legs. Dwight checked John Boy's legs and determined that it was OK for him to keep on going. I patted John Boy and told him it was all right.
Dwight said we had both--John Boy and me--responded very well. A couple of the other OASC riders also complimented me on my handling of the incident. In retrospect I guess I am pleased that I stayed calm and stayed on the horse and avoided injury. At the time it felt weird to be complimented, though, because I sort of took it for granted that this was a really solid horse, and therefore the credit seemed to belong to him. Not that bad things can't happen, and not that a "solid" horse can't be freaked out by a stumble on the trail, but I started from a position of confidence in the horse, and although my adrenaline certainly spiked when he suddenly pitched forward and down, things just didn't develop to a point where there seemed to be any reason to panic.
---
Part of our ride was on fire roads. The shot above gives you a good sense of what the roads were like. I took this picture while we were all stopped for a rest and a snack.
Horses at rest.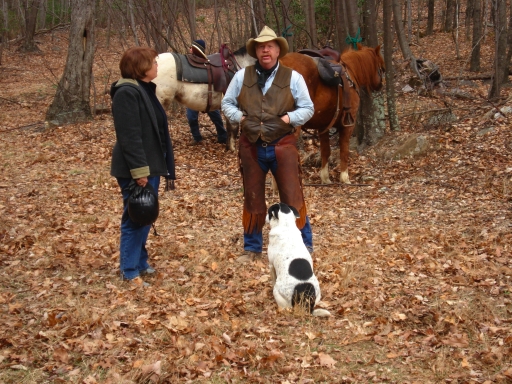 Here Dwight the trail boss talks with another OASC rider while Enapy the trail dog looks on.
The view from our resting and snacking spot. At other points, the dropoff of the mountainside was closer to the trail and we had better views of the Shenandoah Valley.
---
This picture came out fuzzy but it gives you an idea what another part of the trail was like: narrower, going through forest with occasional open patches. (The woman in front has her feet out of the stirrups to rest her knees. Keeping your feet in the stirrups and close to the horse tends to bend your lower legs inward a little bit and put sideways strain on the knees. My knees hurt as much as my "sit bones" after the ride.)