Yesterday (October 4, 2008) I went on a trail ride with a group from the Outdoor Adventure Social Club at North Mountain Outfitter in Swoope, Virginia. (If Swoope--rhymes with "rope"--sounds familiar, it may be because you have read Michael Pollan's praise for Polyface Farm, also located in Swoope.)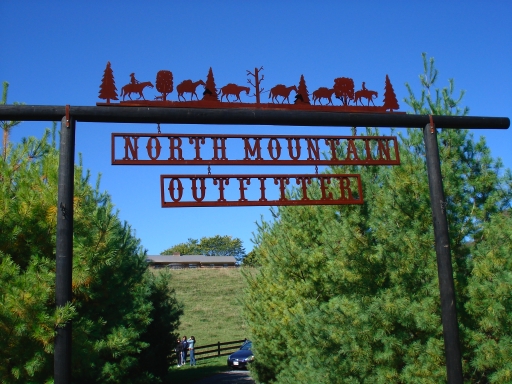 ---
We started the morning at a ring near the stable, where horses and riders were matched with each other one by one and we got very basic riding lessons. Nobody in the OASC group was very experienced with horses; at least one person had never been on a horse before. I was a little surprised to find that my two semesters of lessons in English style riding at Mount Holyoke made me one of the most experienced riders in the group, even though the lessons were so long ago that I cannot remember some of the basic things like how to measure the reins. Fortunately, it turns out that Western style riding (at least as practiced at North Mountain) is more forgiving--exact measuring of the reins was not necessary!

Here is our OASC group leader, Patrick, with one of the horses and Dakota, the dog. (Unless that is Enapay [sp?], the other dog. There were two very friendly black and white dogs who greeted us when we arrived. Enapay accompanied us on the ride, and Dakota stayed at the ranch. Now I'm having trouble distinguishing them in pictures.)
Horses waiting in the corral to be matched with their riders.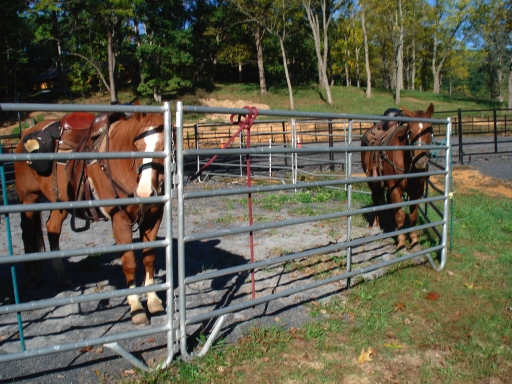 ---
I was matched with a horse named Apache. I rode him around the ring several times so we could get acquainted with each other and I could get the hang of riding again. While we were still in the ring, Apache and I both got a little bit of a fright when he put one hoof into a hole in the ground and stumbled. He recovered quickly and stayed calm; he didn't try to bolt or buck me off. That gave me a good impression of him, and I managed to stay calm, too.

Here are some pictures of Apache.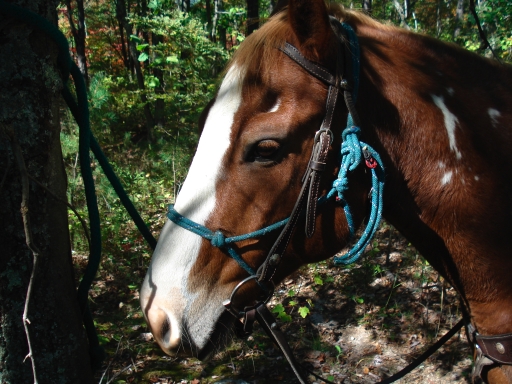 ---
And here I am on Apache! Even though my face is partly in shadow from the visor on my helmet, you can tell this is me by the classic Mount Holyoke T-shirt I am wearing.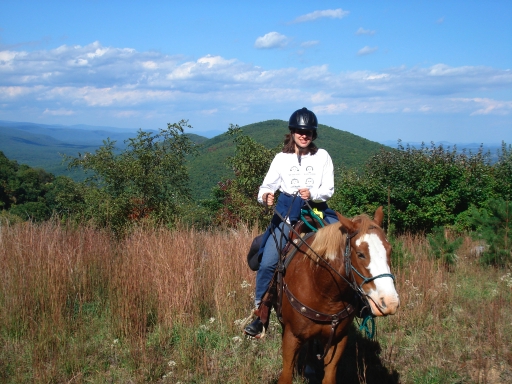 This picture also gives you a pretty good impression of the weather we had for the ride: mostly clear skies, with daytime temperatures around 70 and not too much of a breeze. We really couldn't have asked for more perfect weather. It was beautiful and neither too hot nor too cold.
---
Here's the view of Apache that I had from the saddle.
---
To continue the story of the day:

After we were all mounted on the horses and had had a chance to practice riding in the ring, we rode out on the trail, guided by North Mountain Outfitter boss Dwight and his daughter Jennifer. We rode up the side of Little North Mountain and along a logging road into a clear area where we had views of the Shenandoah Valley and the Blue Ridge Mountains.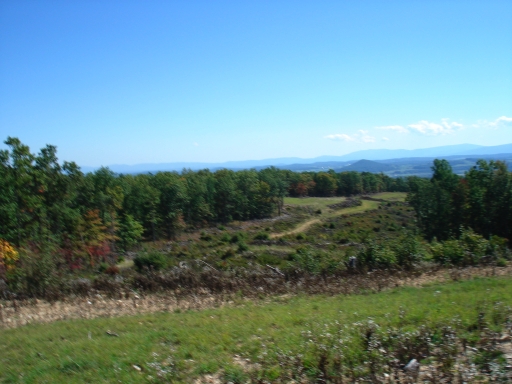 Then we turned around and rode back along the logging road to a clearing where we dismounted for a lunch break. NMO had packed us some delicious and very satisfying lunches. (Most people couldn't quite finish all their food. I saved part of my lunch for later.)
After lunch, we rode down a trail that led to an overlook with great views of the Washington National Forest (or "Warshington" National Forest as Dwight says).
After that we rode some more trails through the woods, including a very challenging last section of trail leading back down the mountainside to the ranch. This section of trail was very narrow, and Apache wanted to go down it sideways. The result was that my right leg kept getting smashed against trees and dragged over saplings. I lost my right stirrup twice, thought I was about to fall off the horse once, got a bruise and scrape through my jeans on my right knee, and had to concentrate very hard on trying to stay on top of the horse the whole way down the trail. I thought that part of the trail was too challenging for inexperienced riders, but several of the other OASC riders said it was their favorite part, and they found it appropriately challenging. So I think Apache was just giving me a difficult time.
At the end of our ride, we stayed at the North Mountain Outfitters bunkhouse, where they fed us a huge steak-and-potato dinner. After dinner, I went in the hot tub with four of the other OASC riders, and we stayed up late talking. We all slept in the bunkhouse last night and drove back to Charlottesville after breakfast this morning. This is the view of the North Mountain ranch from the bunkhouse porch. Don't worry--the guy who appears to be slumped over a chair in the foreground is actually just setting up his camera to take a group photo of the rest of us as we stand on the bunkhouse porch.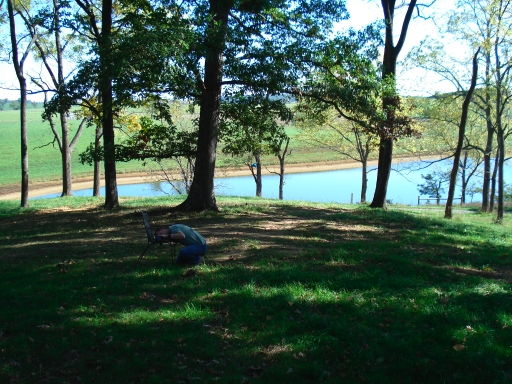 I had a fantastic time on the trail ride and I was well impressed by North Mountain Outfitters. They taught, guided, housed, and fed us very well! As we left NMO this morning I was already thinking about how I might go back for more. Would any of my out-of-town friends and family like to visit me in Virginia and go for a trail ride together?
NEW! See additional photos from the trail ride taken by fellow OASC rider Christine.