Our Trayfoot Mountain Hike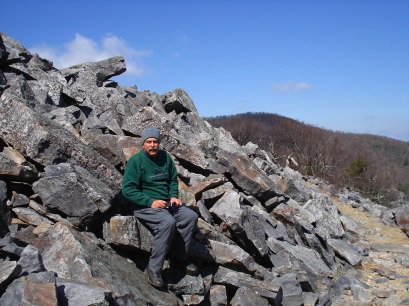 On the way to Trayfoot Mountain we hiked around another, smaller summit that was topped with a huge pile of blocky boulders.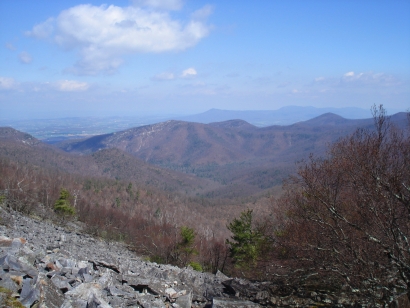 A view towards the south from the rock pile.

Here is a composite picture of Trayfoot Mountain, taken from the rock pile. We hiked up the right side, along the ridge to the last bump on the left, then back again.
On the hike back across the saddle between Trayfoot and the rock pile, we met up with a trio of deer that were grazing on the grassy margin of the trail.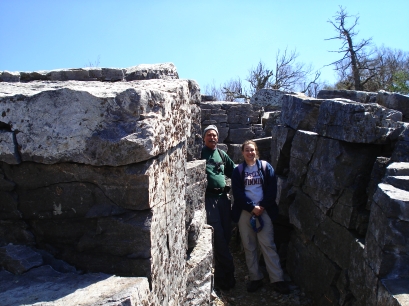 These rock walls just below the big rock pile reminded us all of thick fortress walls.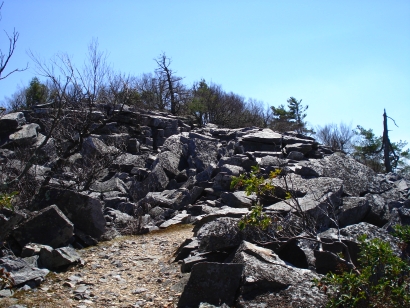 Another view of the rock pile . . .

On the hike back out, Dad (center) and Mom (right) decided to climb up to the top of the rock pile. I followed them after taking this picture. It reminded me a little of Erik's rock-climbing phase as a kid.

(This picture is not in sequence. It was taken on the trail from the rock pile area across a saddle to Trayfoot.) I noticed these whorls on a weathered piece of tree stump. I like them. They remind me of a topographical map.