On a recent weekend (2/27/09-3/1/09) I went with the Outdoor Adventure Social Club on a trip to Cass, WV. Most of the other people on the trip were taking advantage of the nearby Snowshoe Mountain Ski Resort, where I had hoped to use the cross-country and snowshoe trails in the woods. Unfortunately for me, we had a warm week leading up to the OASC trip, and by the time we got there, there was no natural snow on the ground at Snowshoe, which meant no cross-country or snowshoeing. So I bummed around the OASC rental houses with a few other people, took a short hike with one other person, and had plenty of time to take lots of pictures.

The thickly overcast conditions on Saturday caused most of my photos to have a dim, grayish tone. Some are blurry, too, presumably due to my hand shaking during the long exposure times that must have been required by the dim light. So, they're not as nice to look at as they might have been if taken under different lighting conditions. Nevertheless, here they are.
---
We stayed in three rental houses at the Cass Scenic Railroad State Park. These are apparently old mill company houses. They all look pretty uniform when you look at the row, but in fact each of the three houses our group occupied had a slightly different layout and different layers of renovation.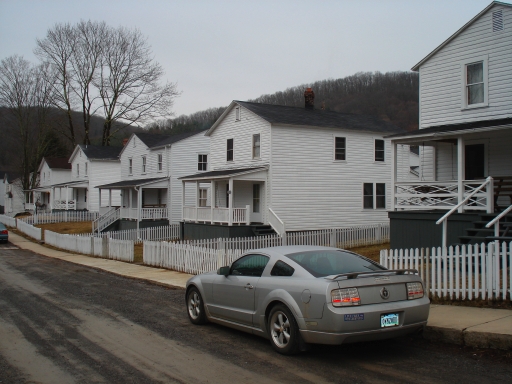 The houses we were in fronted on an old rail line (complete with a few abandoned, rusting rail cars) and then the Greenbrier River, which looked like a great river for canoeing in the warmer months.
I was assigned to "Tranquility House" (pictured below), designated by the club leader as the no-noise, no-food, no-drink house for the weekend. The other two were designated "Games and Movies House" and "Animal House." I would actually rather have been in the "Games and Movies House," where breakfast was served, but all the houses were close together and it didn't make that much difference.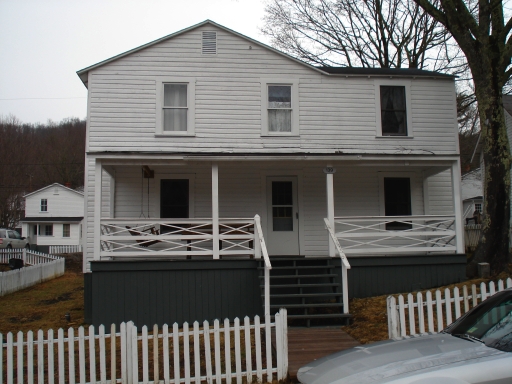 I started out in the first floor bedroom--it's the window looking onto the porch on the right in the above picture. I had a double room to myself and liked it a lot: it was very spacious and comfortable, with lots of room for my stuff.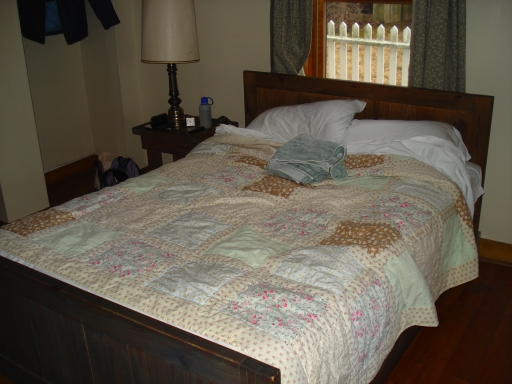 My side window looked onto the side of this dignified if a bit run-down old church, which now serves as a community center, according to the sign outside. (This is the street view, not the view from my window.)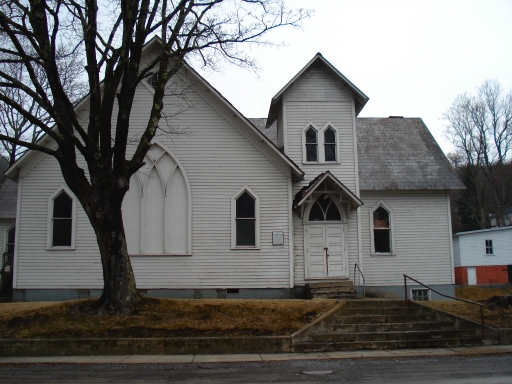 ---
On Saturday morning, after most of the OASC crowd had headed to the slopes to enjoy the artificially-made snow, I killed some time wandering around Cass and snapping pictures.
This one looks to me a little bit like a photo of a scale model, as in tilt-shift miniature faking photography, although the effect is not nearly as strong as in a really effective tilt-shift picture. Then again, it could just be that these old-fashioned train depot buildings appear more frequently in miniature train sets than in real geography now, and my mind just makes the leap from "quaint" to "miniature."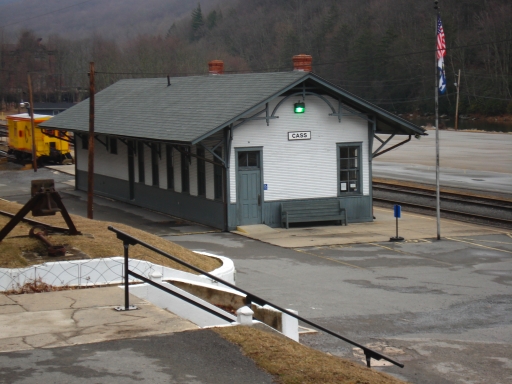 As I was approaching the train depot, I saw an orange cat slink quickly (dash furtively?) along the foundation, in the direction of the tracks, and then disappear in that way that cats have. More on him in a moment.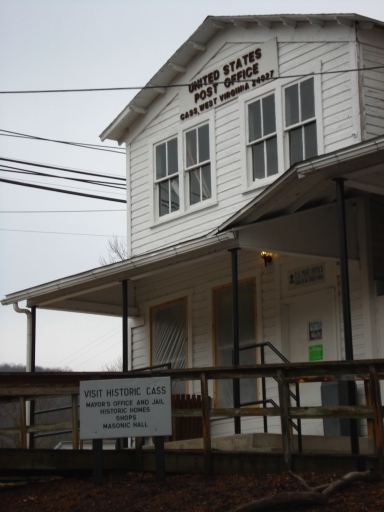 View downriver from the old bridge that crosses the Greenbrier River into Cass.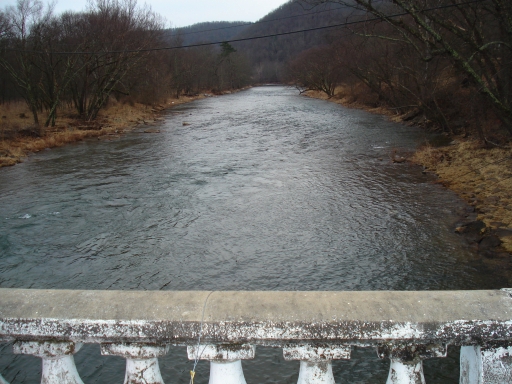 Looking upriver from the bridge, I saw this odd setup. It's like a riprap island with a bath tub in the middle. Any ideas what's going on here?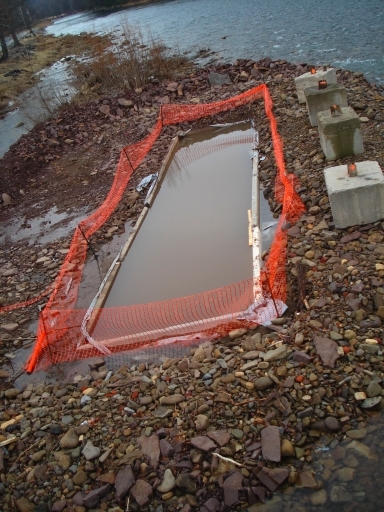 Across the bridge from the rental houses, there is a business called the Route 66 Outpost, a convenience store that also does (downhill) ski and snowboard rentals. When I arrived at the store I found the orange cat, a scruffy looking fellow, stationed just outside the door, working intently on a can of Fancy Feast.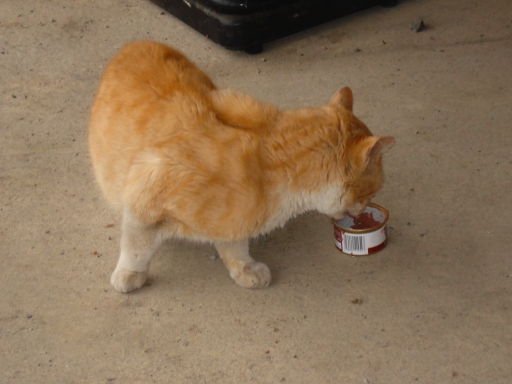 I inquired inside, "Does the cat have a name?" The clerk answered, "Stranger!" So on my way back out, I said, "Hey Stranger!" It sounded just right.
Understandably, Stranger preferred lunch to conversation.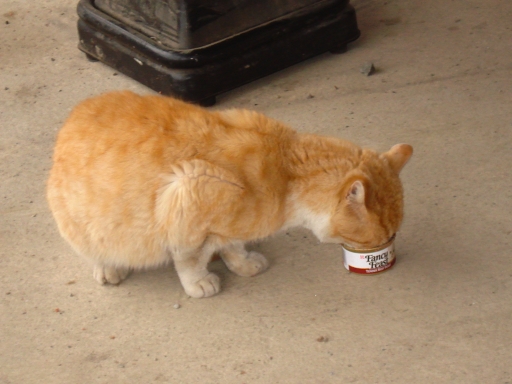 ---
Speaking of lunch: after my morning of exploring Cass and taking a nap, I and the other three "house-bumming" OASC'ers joined the downhill-sporting OASC'ers at one of the mountain resort restaurants for sandwiches, salads, and burgers. This is just a fraction of the group: there were more than 20 of us on the weekend trip, and I'm not sure that everyone showed up for lunch, but we took up at least three different (groups of) tables in different spots in the restaurant.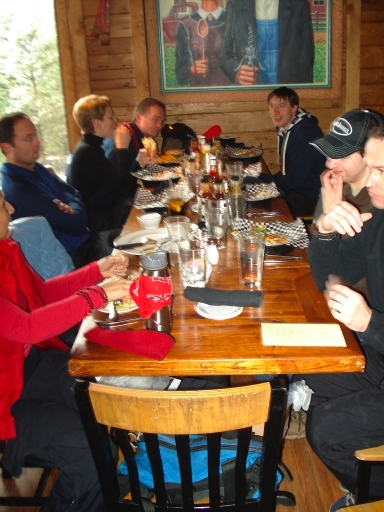 At lunch, those of us who had been "house-bumming" learned that one of the skiers had injured herself during the morning. The ski patrol gave her a very primitive but functional splint made from corrugated cardboard and medical tape.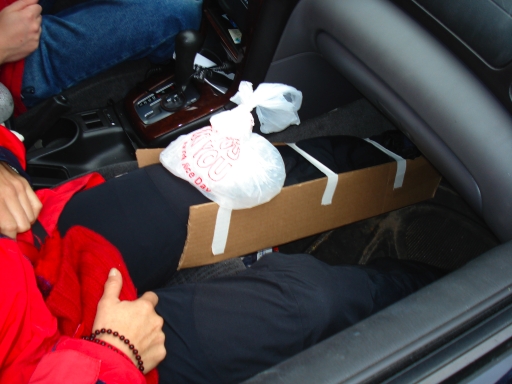 We gave her a lift back to the rental houses. Two of the "house-bumming" people made her comfortable on the couch in the Games and Movies House so she could veg out for the rest of the afternoon while icing her knee. Another member of the group helped me swap my spacious first-floor double in Tranquility house for the injured woman's second-floor twin. (This involved hauling luggage up and down stairs as well as changing sheets.) I don't have a picture of the twin room that I shared with a roommate on the second night, but here's the view out the window: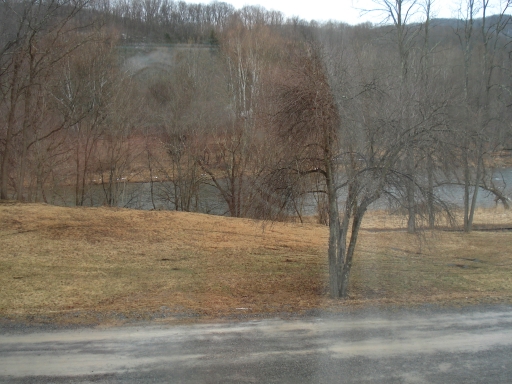 A final note from this portion of the day: at the resort's restaurant I was surprised to discover this item, which is something I had not seen (at least, not one actively in use) for several years: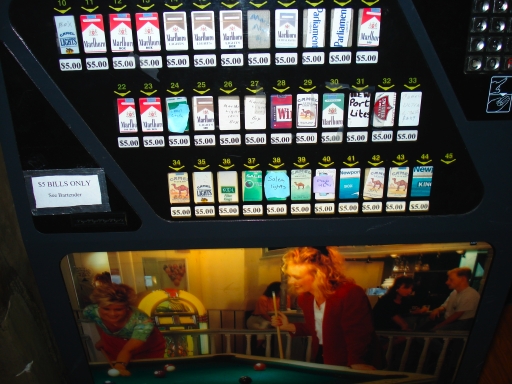 A cigarette vending machine! For some reason, I distinctly remember that there used to be one of these (an earlier model) outside the dining room at the Down East Village motel in Yarmouth, Maine. I must have seen a few others elsewhere, but I can't remember where, and it must have been a long time ago. I assumed these things had been legislated out of existence. Guess not.
---
In the late afternoon, I went for a hike with one of the other non-downhilling OASC members. We both had hoped to snowshoe, but since that was not an option, we decided to check out the Greenbrier River Trail, which has its upriver terminus in Cass, not far from the rental houses.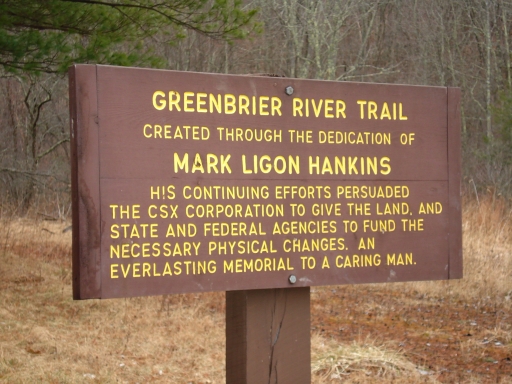 The trail website says that the surface is variable and wide tires are recommended for biking the trail, but the section that we walked on had a very even, well-maintained, and firmly-packed surface. I would really like to go back with my road bike and try biking a longer portion of the trail sometime.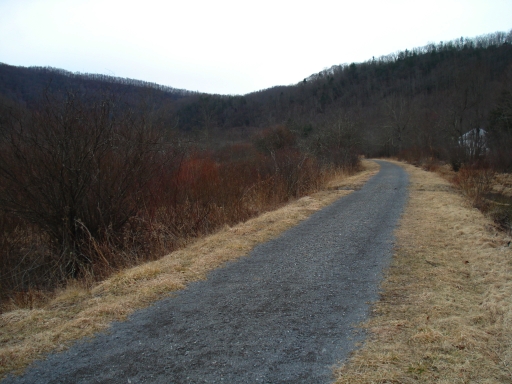 At one point I noticed this Geodetic Survey benchmark embedded in a rock wall where the railroad grade had been cut.
I was also mildly fascinated by the mile markers, which we passed in descending order. Mile markers 80 and 79 looked like original concrete posts, perhaps with the paint touched up at some point, but mile marker 78 appeared to be a recent, wooden replacement.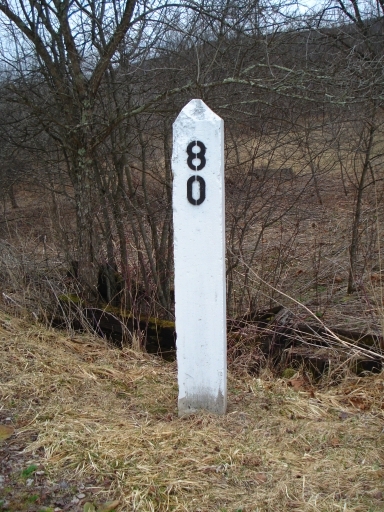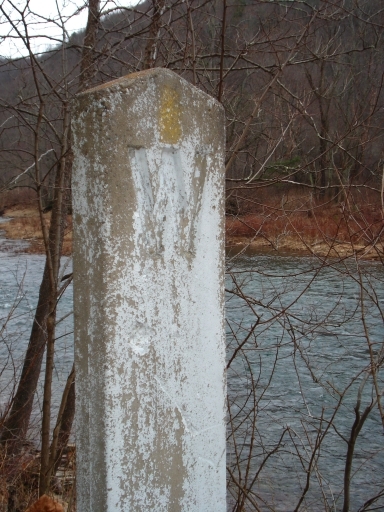 This concrete whistle post clearly has not been restored. It was standing near mile marker 78, where we stopped and turned around for the return hike.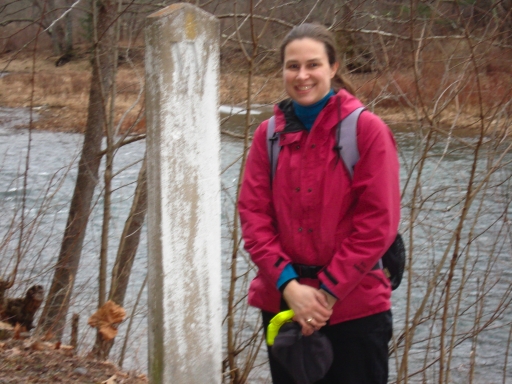 Credit goes to Dad for figuring out what the "W" signified. At first I was mystified why there would be a whistle post in that spot, since I didn't remember anything like a road crossing in that area. Then I remembered that I had photographed these old bridge pilings not far beyond the post: