Recently (November 9, 2008) I went on a combined short hike, lunch, and short trail ride adventure with the Outdoor Adventure Social Club. We drove up to Shenandoah National Park and went along the Skyline Drive to the Skyland area.

We started with a short hike from a parking area out to the Stony Man overlook. (We did not hike the entire circuit described on that web page; we must have done the bit from the "P" parking marker to the first blue marker above it, and back.)
I took lots of pictures, but I won't inflict them all on you. Here is a very rough composite of the vista, looking down on the Shenandoah Valley and across to Massanutten.
Looking back up the rocky outcrop of the overlook. Our trip leader (and OASC founder/manager) Matt Rosefsky is the guy in the black motorcycle jacket, left of center.
Looking back around the corner from the Stony Man overlook, we could see the row of Skyland facilities. There are rental cabins, horse stables, and a building with a restaurant and gift shop. I'm not sure what's what in this picture.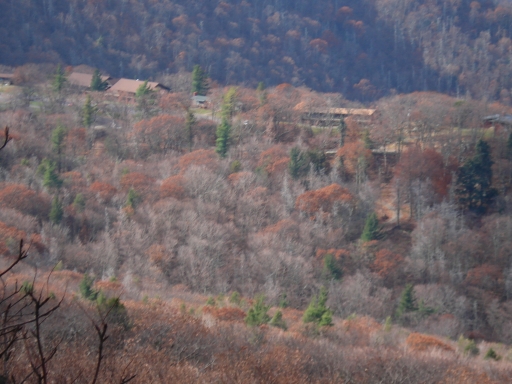 There is a lovely view from the Skyland restaurant, where we ate a delicious lunch between our hike and our ride.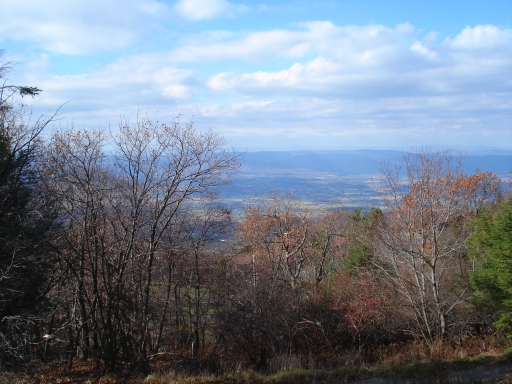 After lunch, we walked down the road to the stables for our one-hour trail ride.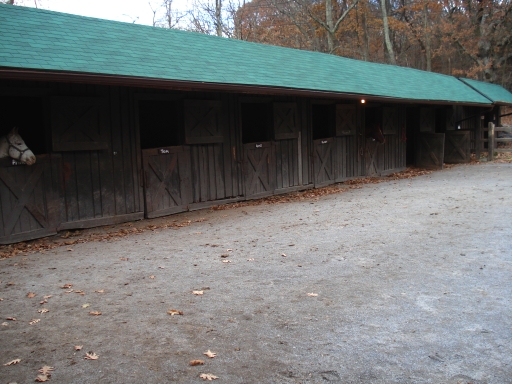 Here is our guide, bringing out one of the horses: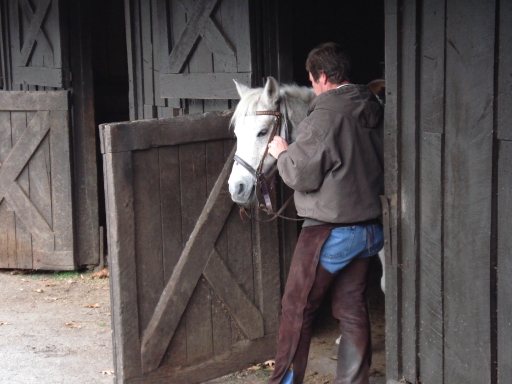 I got to ride a horse named Molly. She was pretty sedate. Most of the horses were. They get ridden multiple times a day on the same trail, from early spring to late autumn. There isn't much for a rider to do--they follow each other more-or-less automatically in single file, at a walk.
I didn't take any pictures during the ride. You might be able to see Matt's pictures at SmugMug.
After the ride, we walked back to the parking lot where my car and Matt's motorcycle were parked, taking a part of the Appalachian Trail instead of walking on the road. We met some very bold deer who didn't mind being photographed.
All day long, we had been joking with each other about the possibility of seeing bears in the park. It was neat to see the deer up close, but deer are pretty ordinary. We were MUCH more excited when, on the drive back along Skyline Drive, we came to a line of stopped cars where people were gawking at three bears in a tree just off the road.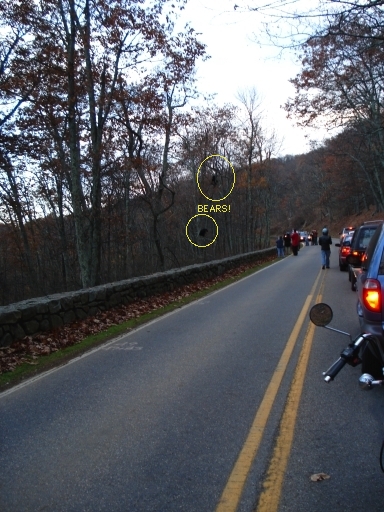 Most of my pictures came out very shaky, because I was so excited I had trouble holding the camera still. The light was low, too, because it was late in the November afternoon. Matt's pictures (see the SmugMug link above) are much better. Here are the best ones I got.
There were two bears high up in the tree, eating acorns, I think. They didn't seem to take any note of the rubberneckers on the road.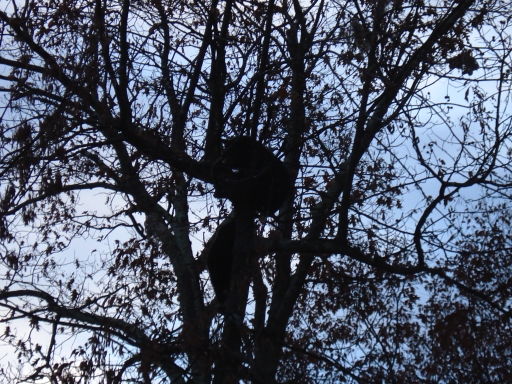 Lower down, there was a third bear who looked a little more concerned about all the humans gawking at her, but she neither attacked anyone nor ran away--just hung out and kept an eye on us. I didn't notice at first that there was a difference in the bears' sizes, but other people guessed that this was a mother bear and the two higher up were her cubs.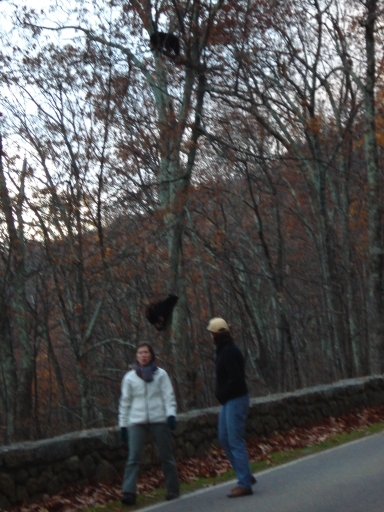 It was an exciting conclusion to a nice day out!