Last Sunday (March 29) I went on a bike ride with the Outdoor Adventure Social Club on the James River Heritage Trail in Lynchburg, VA. We were actually just a small group from OASC: our biking leader Amy, a guy named Emil, and me. I had done a bike ride on the same trail with Amy last fall, and I begged her to lead a trip there again; she very kindly obliged. As it turned out, we got a great day for weather--a sunny break in the middle of many cloudy, rainy days.

In the interest of timeliness, rather than create a journal-style narrative with pictures, I have simply dumped (almost) all my pictures from the ride, in the order they were taken, into a web page and added captions.
---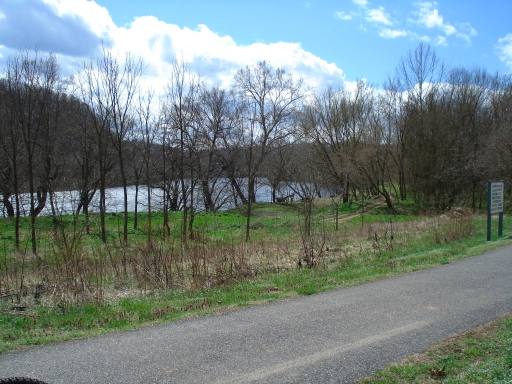 View of the path where it runs near the James River.
---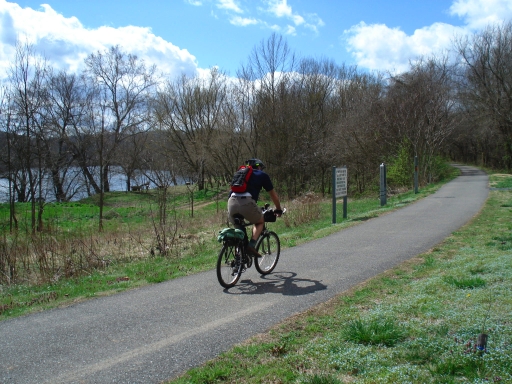 Emil.
---
Amy.
---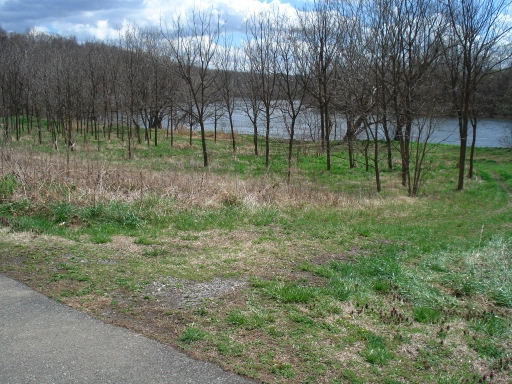 View of the river. The grass was greening up but we didn't yet have leaves on the trees.
---
River again. Notice the bright sun on the clouds. The day started out cold, gray, damp, and foggy, but turned rather nice.
---
River again . . .
---
more river . . .
---
Some tiny wildflowers were out in the grass.
---
Close-up of flowers.
---
The path. The open spot where I paused to take pictures was a little unusual; mostly, the trail runs through woods. It also crosses the river on a really cool old railroad trestle, which you can see in the OASC picture gallery from the previous bike trip that I did on this trail.
---
Me with my bike, my bandanna getting a little windswept.
---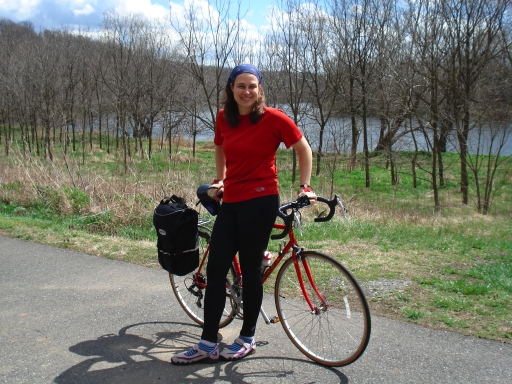 Me again. I like this picture.
---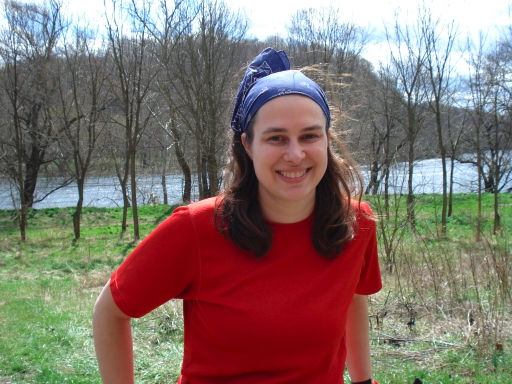 Windswept.
---
Emil, Kristin, and Amy with our respective bikes! By the way, yes I was wearing a helmet while riding; I took it off for my shutterbug break.
---
Lynchburg's Depot Grille, which is just what it sounds like: a restaurant in an old train depot. We stopped here for a leisurely lunch about three quarters of the way through our ride. The restaurant overlooks the river and the weather was good enough for us to sit out on the porch. It was very nice.
---
Waiting for lunch. Amy ordered a mango iced tea which she said was really good.
---
Still waiting for lunch. Wow, that reflective ribbon on my pannier really works! Apologies to Emil for catching him mid-sentence in both pictures.
---
The path goes through a short tunnel. Here's Emil at one entrance to the tunnel. Last time we took a picture at the other entrance.
---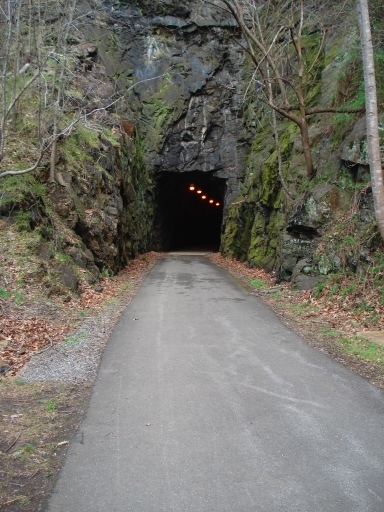 Tunnel . . .
---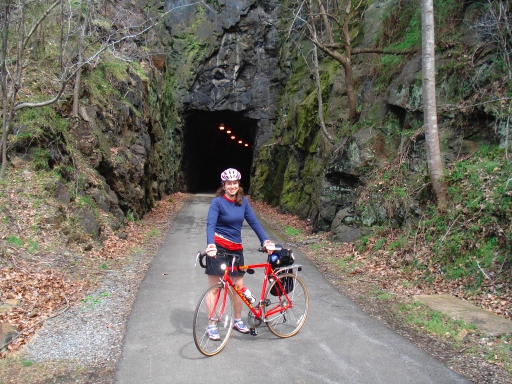 . . . me and tunnel (see, I am wearing my helmet!) . . .
---
. . . Kristin and Amy at tunnel.
---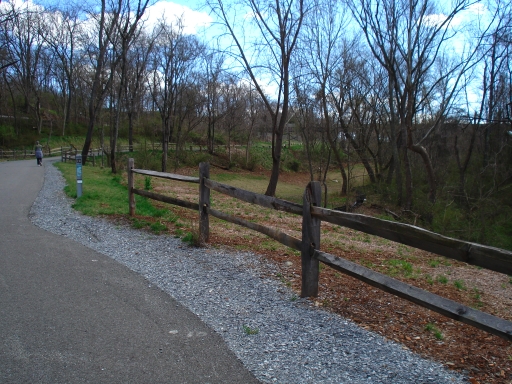 There is a side trail (Kemper Street Station Trail?) that goes up a long hill to an alternative trailhead. Emil and Amy rode all the up to the top of the trail. I had gone all the way up on our previous ride, and my back was hurting at this point in the day (ibuprofen hadn't kicked in yet--I was feeling much better about 20 minutes after this photo was taken), so I stopped at this turn-out partway up the trail to take pictures.
---
Same side trail, looking back down the hill.
---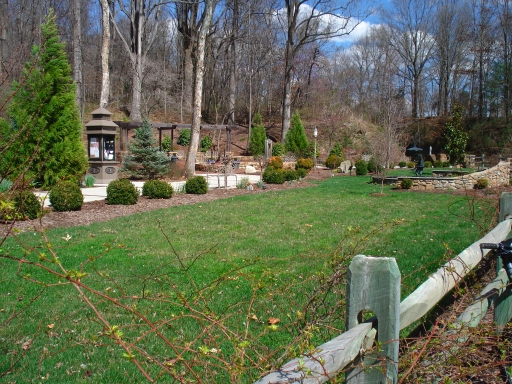 These last few pictures are from the trailhead on Old Langhorne Road. There is this nice little public garden with sculpture and stuff. Opposite the garden (not pictured) there is a pair of restrooms with a bike rack outside.
---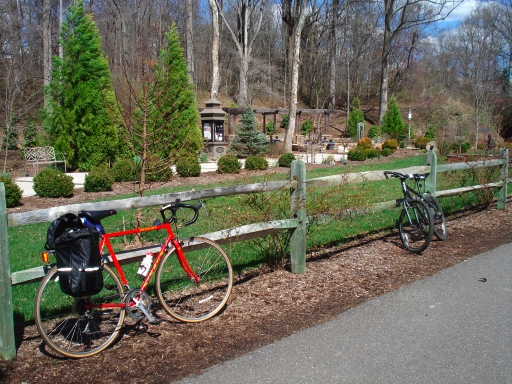 Despite the availability of the bike rack, this fence was very appealing as a bike-propping spot.
---
Emil at the trailhead.
---
Redbud in bloom near the public garden. So pretty!